Trinity Lutheran Church (ELCA)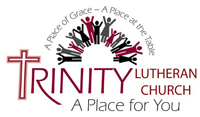 Trinity Lutheran Church provides North Branch area residents many opportunities to grow in the Christian faith and serve in God's world. We offer two Sunday morning worship experiences at 8 am and 10 am, and ministries for people of all ages. (Memorial Day weekend thru Labor Day weekend- one service at 9 am)
Join us for worship on Facebook and YouTube.