Chisago County Senior Center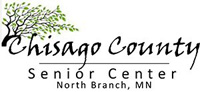 Resources for varied activities for services and county-wide organizations. Event space/facility use availble to the community.
Lunch is available Mon-Fri. on site and is open to the public! Please call by 8:00 am to make a reservation. 651-674-1956
The Chisago County Senior Center is fully open again after a long closure due to COVID-19. Our hours of operation are Mon. thru Fri. 8:00am to 1:00pm. We are working on expanding our activities for Seniors and looking for volunteers to help acheive that goal. We are also taking reservation for rentals. Consider us for your next event, large or small. Call for more information or to sign up for our newsletter. 651-674-8658. Follow us on Facebook.