Networking Monthly Luncheon
June 14, 2022 @ 12:00 pm

-

1:00 pm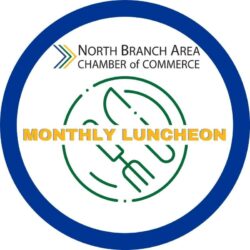 Our monthly Chamber luncheon is open to everyone – Members & non-members alike. Our monthly luncheons will be focused on networking business to business. Come enjoy about 30 minutes of eating, social, and networking opportunities. Everyone in attendance will have a chance to hear from the chamber, the City of North Branch, Chisago County HRA-EDA, and our Public Schools. When you sign-in at the door sign up to give an update on your business; achievements; employee of the month updates; or information about the "happenings" at your business. The first 6-8 sign ups will have the chance to share for up to 2 minutes on your company. Then will "of course" have our drawings.
Business that bring in a door prize receive a special recognition shoutout towards the end of the luncheon. What a fun way to get your name out their!If you would like to bring a door prize, don't forget to get it to Shelby when you arrive!
As always, the luncheon will be catered. RSVP for your spot by the morning of JUNE 13TH! Walk-ins or last minute decision to attend is welcome; however, may not receive a meal due to head count for our caterer. Contact shelby@northbranchchamber.com for assistance.